One River, One Ryan & the Dutch
Why river cruising is the best kept secret!
Many may think river cruising is for an older generation, but this is just not the case at all. As someone in their late 20s I would probably be the last person you would expect to see sailing down one of Europe mighty rivers. Was I one of the youngest on board absolutely, but did this effect my experience certainly not? If anything, this made the trip even more special for me, I lost my grandparents a few years ago now and being able to listen to the stories of my fellow cruises really bought back some very special and forgotten memories. Truth be told I was a little worried before I got onboard the impressive MS George Elliot, that the guests onboard would think I was out of place being on their holiday, but this couldn't have been further from the truth. In fact, I have had a lot of passengers coming up to me and say it's so nice and refreshing to see someone younger on a river cruise and they have loved hearing the laughter from me and my friends.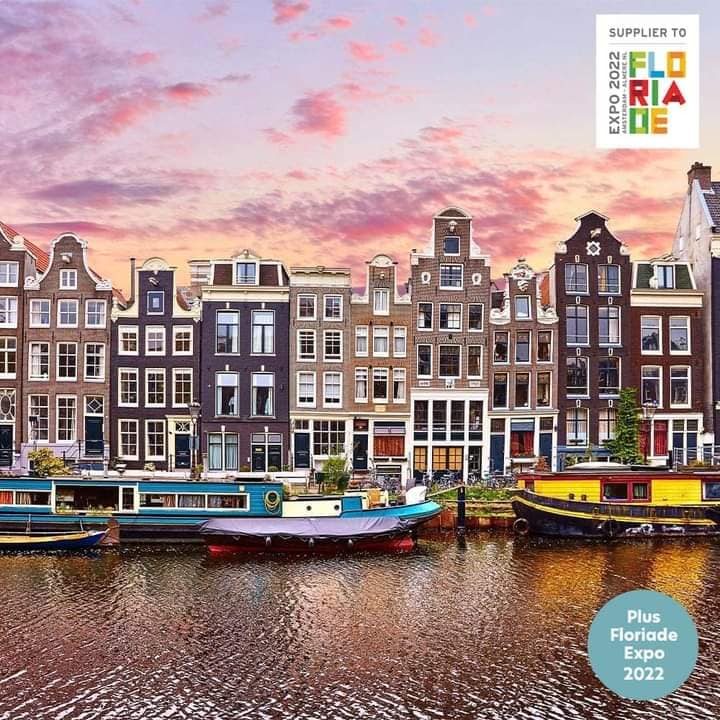 I wasn't sure what to expect on my first river cruise, but I have been blow away by every part of it. My cruise started in the exciting city of Amsterdam in the Netherlands; hands up what Amsterdam is best known for? If you said Ann Franks house you are correct, I won't mention what else Amsterdam is famous for in fear on me losing my job (laughs out load while writing this blog). We then sailed over to Rotterdam for a morning walking tour of this beautiful city and saw The Cube House and the indoor market selling delights from macarons, local meats and cheeses and much more. The afternoon was a tour of the historical kinderdijk, or as I like to call it the windmill place. It was fascinating to learn how the Dutch have tamed the water that tries to invade its lands in a daily basis. The next day we sailed along the Dutch waterways in to Belgium for a day in BRUGE, if you haven't visited this wonderful city, I highly recommend it. It is beer and chocolate heaven, oh and the history is pretty amazing too. We spent the morning walking around the medieval city taking in the sites, then went beer and chocolate tasting in the afternoon. Let's just say I don't remember the chocolates! The next stop on our itinerary was Antwerp, this city really has it all from history, culture, and the perfect place for a foodie to explore Belgium cuisine. It was so easy to walk around this bustling city as it very pedestrianised. Our final stop in the Netherlands was Arnhem, we visited the Het Loo Palace and Gardens and what a site this was. The gardens are stunning and right out of a Bridgeton set, it was made even better with the glorious sunshine we had. As we left the Dutch waterways behind and started our journey to Cologne along the Rhine, it was time to take a breather from all the exploring and adventures we have had. The best part about river cruising is being able to sit back relax and watch the world go by, the ship has a huge top deck where you can chill with a refreshing cocktail or glass of wine. Our final stop was Cologne and what a city this is. We walked in to the city from the dock which was only a few minutes walks, to the stunning Cathedral. Here we picked up some electric scooters and made our way over the river and stubbled in to a German Food and Music festival, we spent the afternoon trying some German delicacies and drinking beer while dancing to the band that was playing. I can honestly say this itinerary has something for everyone. (Amsterdam, Cologne and the best of Holland and Flanders)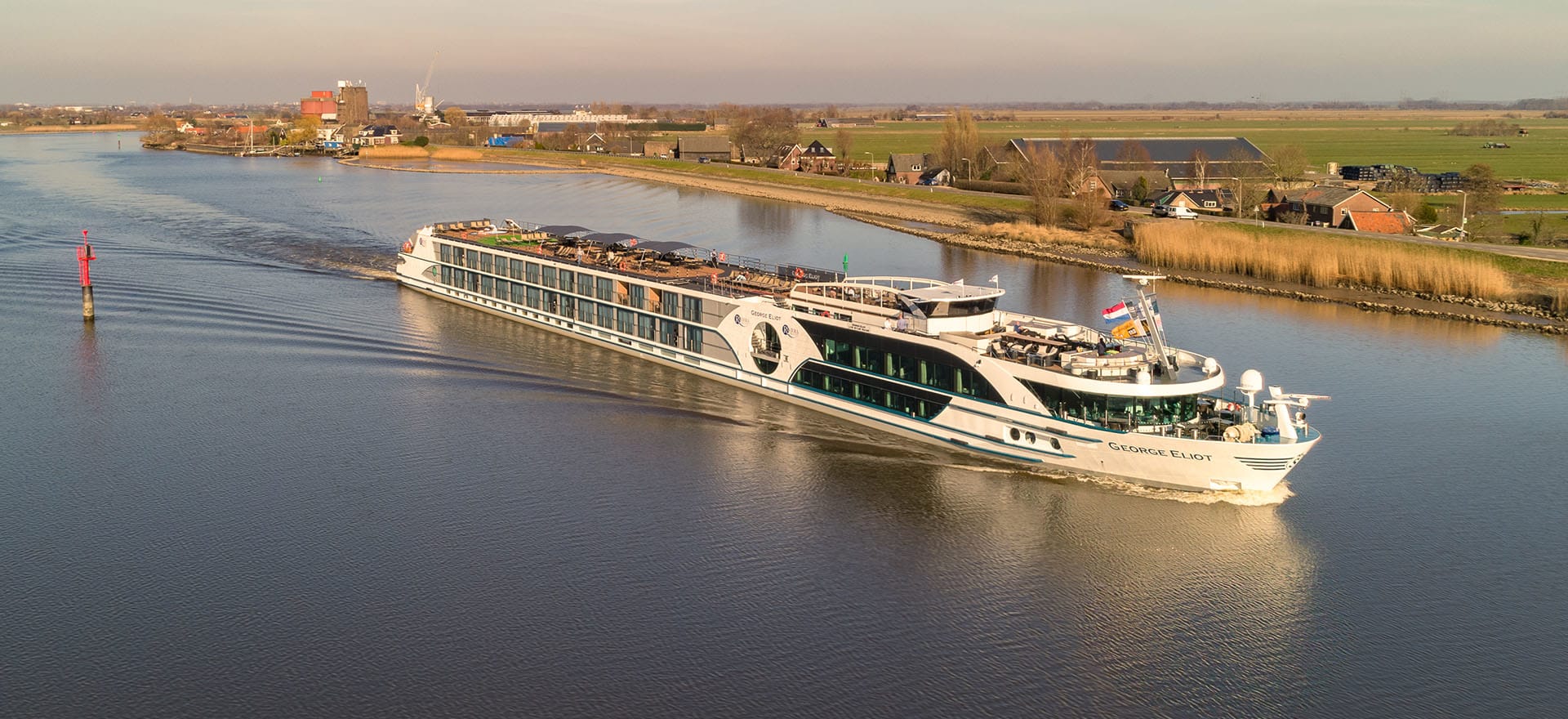 The MS George Elliott is a 5-star luxury ship, and it is truly stunning. They offer three cabin types. Standard, Deluxe and a Suite. The ship is spread over 4 decks. The top deck is outside with a few shaded areas and has a heated plunge pool and mini golf green. Deck 3 is where you will find the lounge bar and 3rd deck cabins, the lounge is where all the entertainment and drinks receptions are held. The lounge leads out to a small lobby where you will find a small gift shop, reception and the tea and coffee station. Deck two is where you will find the main restaurant, deck 2 cabins and the bistro, you do need to book a table at the bistro as it is a small and Intermittent dining experience. The lower deck is where you will find the hair salon and the standard cabins. The ship holds 132 passengers but it has never felt cramped or too small. I particularly like the fact you can get from your cabin to any part of the ship in a matter of seconds, you aren't stood waiting for lifts like you do on an ocean cruise. Just another reason why river cruising has become my new favourite thing.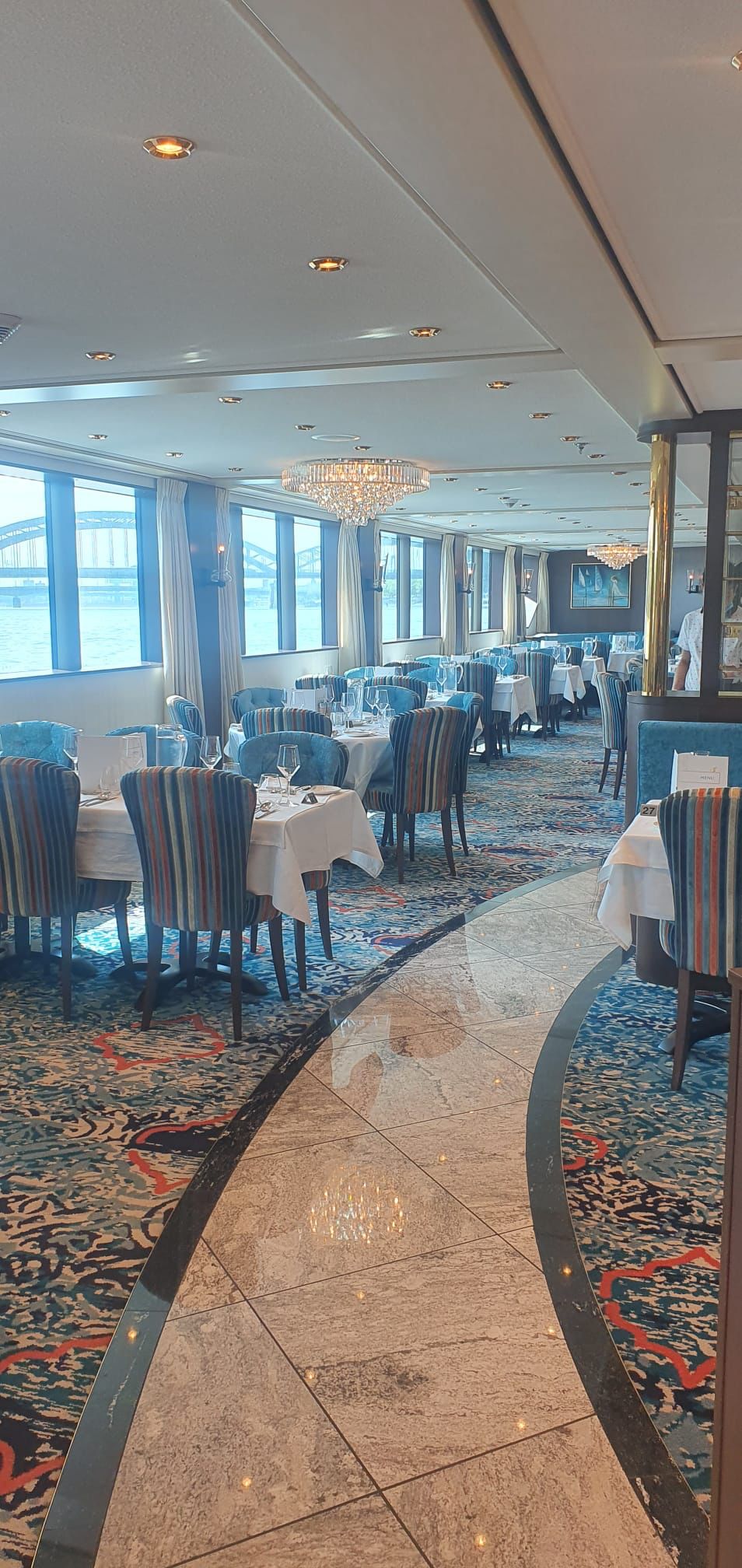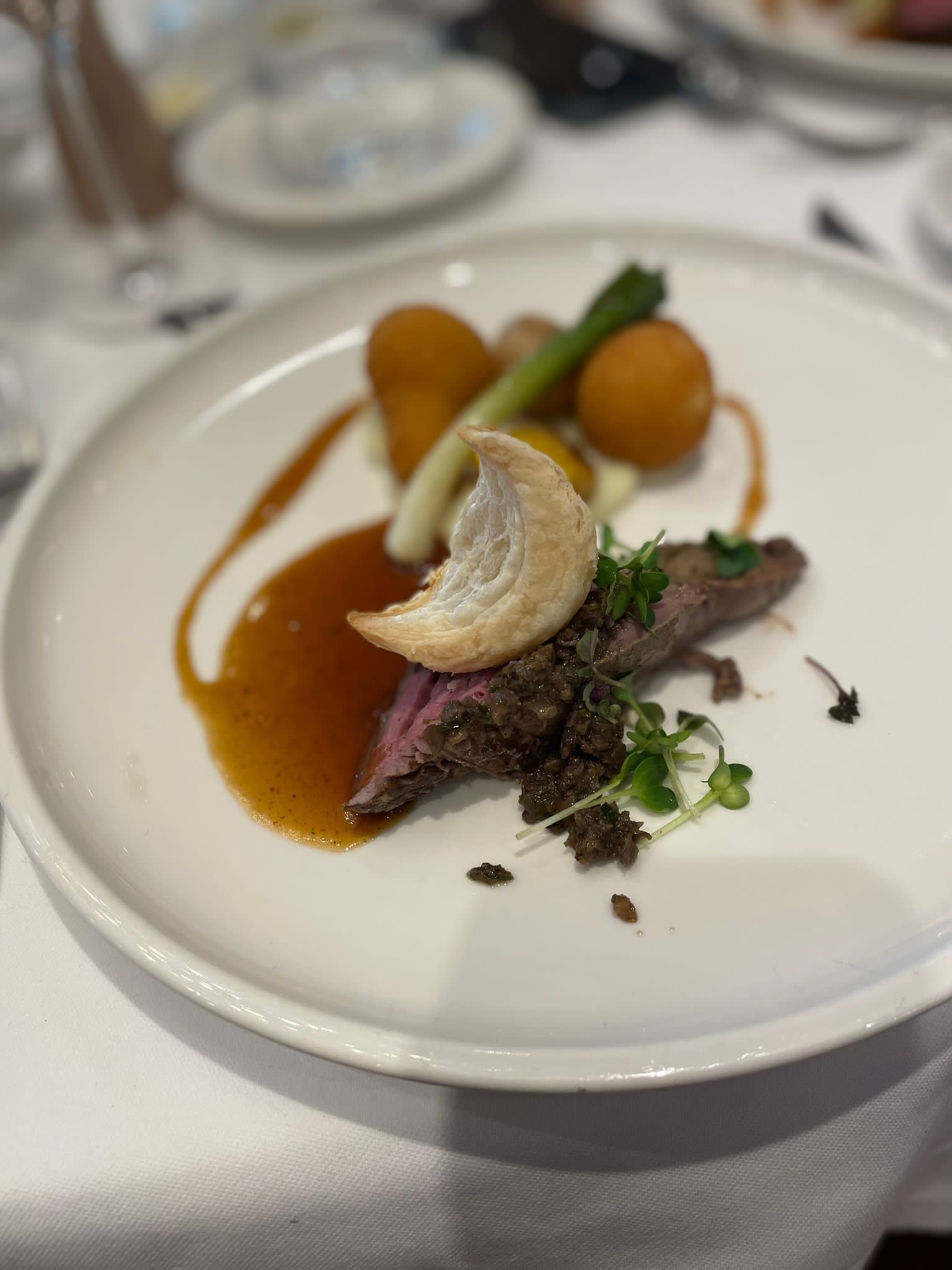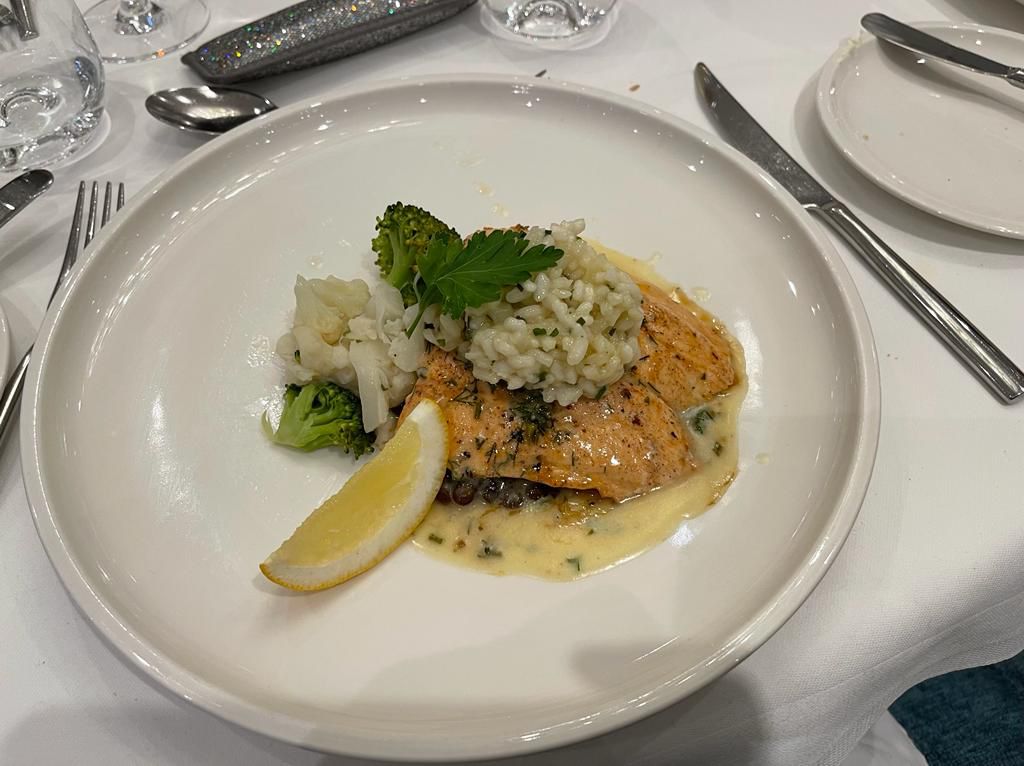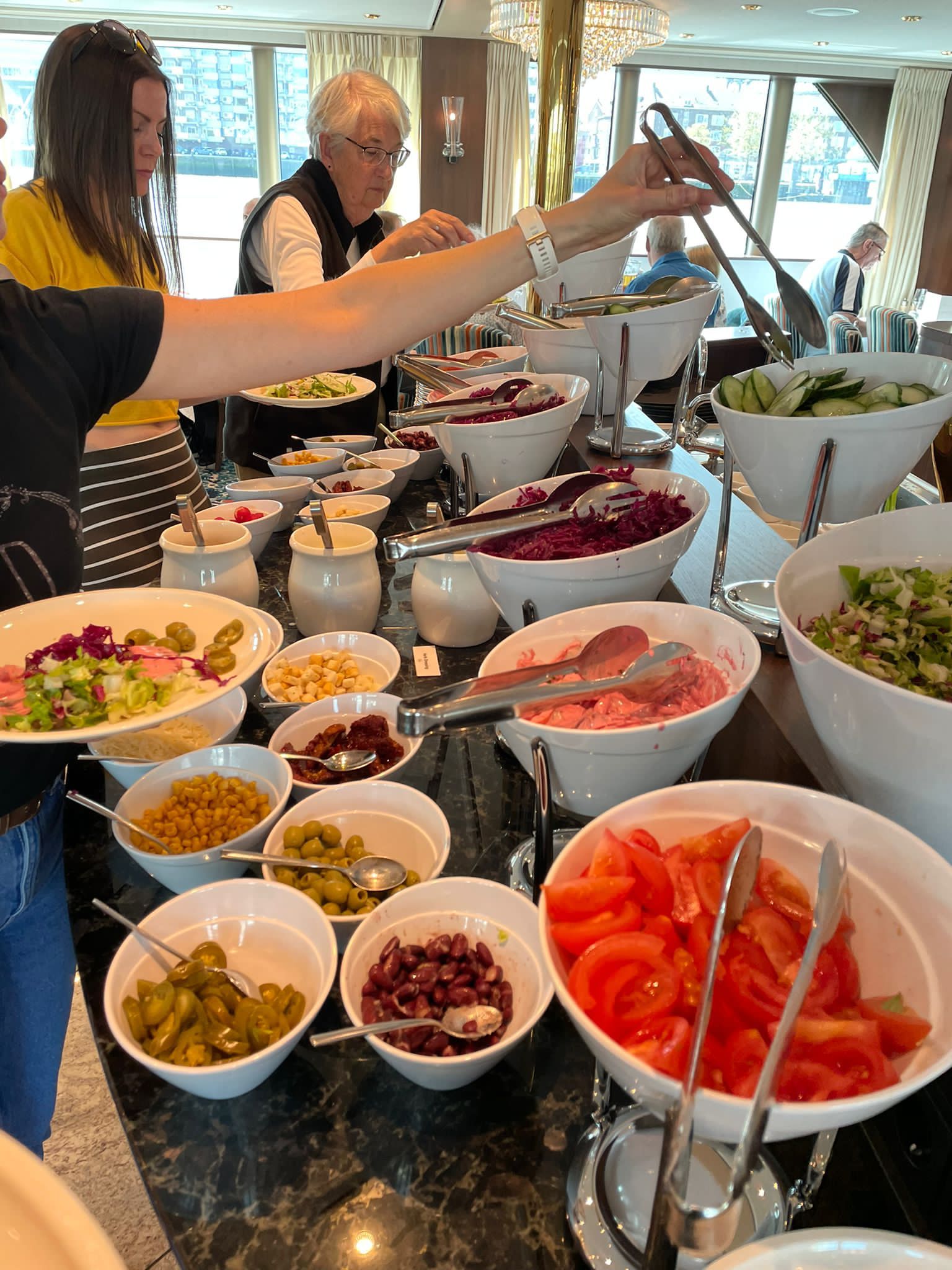 The final part I want to mention is the food, the food was out of this world. I have never had so many different soups in my life. Breakfast is a casual affair where you can either order of the menu or help you self to the breakfast bar. From beans on toast to Eggs Benedict, meats and cheeses to cereal and yogurt. Oh and of course the full English is always available. Lunch is casual with freshly homemade soups each day, salad bars and a selection of delicious hot food. The Singapore noodles was a particular favourite of mine. I would highly recommend adding the drinks package on for lunch and dinner this starts from £79 per person this is well worth it, it includes all your wine, beer and soft drinks. Top tip, get your glass filled up before you leave the restaurant after dinner. Now dinner is a smart but casual affair with starters, soups, salads, Mains, desert and cheese. The menu changes each day and tantalise is the taste buds each night. There was always chicken and salmon available if you didn't fancy anything on the menu but I highly recommend trying as much as you can.
It wouldn't be fair if I didn't mention the crew onboard the MS George Elliott, they are amazing! From housekeeping to the bar staff and the cruise directs to the waiting staff (shout out to Jim who has been amazing and put up with us all week, he's a saint) they all go above and beyond to make your cruise the best it can be, I take my hat off to you all.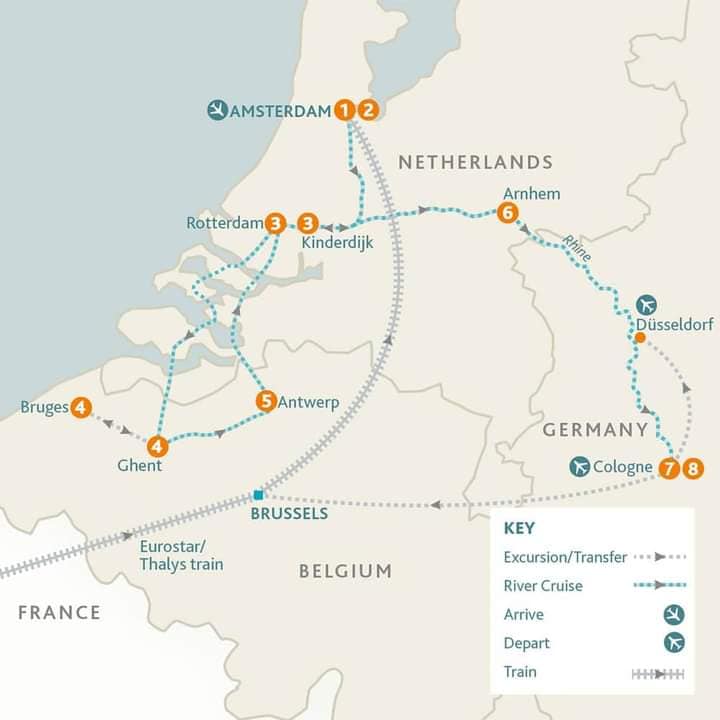 It has been a wonderful week meeting a lot of new people and I would highly recommend a Rivera travel river cruise. With prices starting form £1759 full board for 7 nights, it's the perfect way to travel around Europe. For more information or to book your very own river cruise call Ryan on 01905 765015 or email Ryan@arrangemyescape.com
Where will your river cruise take you?